K9 Rehabilitation
Canine Rehab is a collaboration of two highly educated and licensed professions, physical therapy and veterinary medicine. Due to the definition of physical therapy in the state of Montana, any work done with canines is called Canine Rehabilitation. One must be a licensed physical therapist or veterinarian to gain certification from one of two national schools that specialize in Canine Rehabilitation. As a physical therapist practicing in the realm of Canine Rehabilitation, one must have a referral from a veterinarian. This team approach ensures that your dog will receive the best of both worlds-the veterinary and the physical therapy knowledge and expertise.
Indications:
Canine Hip Displasia
Cranial Cruciate Ligament Injuries and Surgeries
Post-operative Fracture Repairs
Amputations
Tendinitis and Ligament Sprains
Muscle Strains
Conditions:
Obesity
Osteoarthritis/Degenerative Joint disease
Elbow Displasia
Neurological conditions
Inter Vertebral Disc Disease (IVDD)
Fibrocartilaginous Embolism (FCE)
Degenerative Myelopathy (DM)
Traumatic Nerve Injuries
Reference Site: FitPaws
---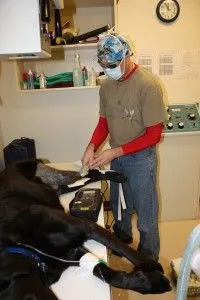 Cold Laser Treatment
Apex offers cold laser treatment using a Class III laser for the treatment for a variety of painful and inflammatory conditions ranging from arthritis and otitis to open wounds and cystitis. Ask your veterinarian if your pet might benefit from laser therapy.
How does it Work?
Laser therapy works to relieve pain and inflammation at four levels.
Absorbed laser energy stimulates the release of B endorphins, increases nitric oxide release, stabilizes the membrane potential of nerve cells, decreases the amount of circulating Substance P and bradyckinin levels, and increase the threshold of pain perception.
Laser therapy promotes microcirculation by increasing vasodilation and promotes lymphatic flow thereby reducing inflammatory edema. Photonic energy inhibits the syntheses of inflammatory cytokines and prostaglandin.
Photobiomodulation stimulates the proliferation of fibroblasts, the cells that produce essential collagen for tissue repair. Increased leukoctye and macrophage activity occurs at the wound site due to the stimulatory effect laser light has on the vascular system. Small capillaries are regenerated at a faster rate after laser stimulation.
Chromophore stimulation in the mitochondria increases synthesis of ATP, RNA, DNA, and cellular proteins causing accelerated tissue repair and cell growth.